Readers pick Civic Taproom as Portland's best beer bar
With this month's rollout of our second-annual Bar Tab, The Oregonian/OregonLive is calling for bar nominations in a number of categories. We kicked off last week with readers' favorite Portland happy hours. This week, we asked for your favorite beer bars.
So, what makes a great beer bar?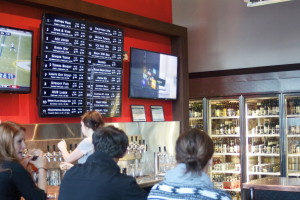 Essentially, that's the question we asked last week, when we asked readers to nominate their favorite Portland-area beer bars for our latest poll.
After nearly 5,000 votes, our readers have spoken, picking downtown Portland's The Civic Taproom & Bottle Shop as their No. 1 local beer bar with over 1,300 votes. See below for our readers top 13 local beer bars (that's all the bars that received 100 votes or more), then see how we ranked our favorites last year.
Your favorite Portland beer bars
1. The Civic Taproom 1,320 votes
2. The Loyal Legion 691
3. Chill N Fill 360
4. Bridgetown Beerhouse 262
5. N.W.I.P.A. 251
6. Roscoe's 184
7. Tin Bucket 164
8. Green Dragon 163
9. Horse Brass Pub 158
T10. Belmont Station 124
T10. Saraveza 124
12. Apex 115
13. Bailey's Taproom 100